We have heard celebrities throwing birthday bash at hotels, farmhouses and the most exotic locations of the world just to make sure that they're remembered for that day even after they die. But not everyone is that much lucky to have received such a grand party on his/her birthday. It's not the limelight and luxury of a party but the associated people that make such an occasion special. If you have everyone you love with you on your birthday, wishing you from the heart, then I think that's all you need to call it "special". Otherwise, what'll you do on a birthday party alone? So you can understand what importance your one-line wish holds in the heart of that birthday boy/girl and you do understand how bad it feels when you fail to hold that promise. To make sure that doesn't happen again, we've got something for you!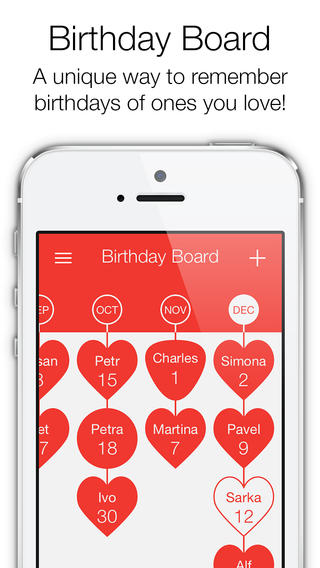 Birthday Board is an iOS app developed by Superdik B.V. The app is compatible with iPhone, iPod touch and iPad and requires iOS 6.0 or any later version of the OS. This app has also been optimized for iPhone 5.
Birthday Board is meant to keep your close friends closer to you. We know that precaution is better than cure and it's the same principle that Birthday Board works on. As the name suggests, all the birthdays of your friends and relatives are listed on a board one under the other as per the month they belong to. Each such birthday card consists of the photo of that person, his/her name and zodiac sign. You can create such boards from the scratch by adding birthdays manually or you can import names from your Facebook friends or contacts list. You can even create more than one such board for family, friends, cousins, business partners, etc. After you're done creating birthday boards, you can set countdown timers for them so that you're always with the time. Setting alarms is just another precaution on board that you can take.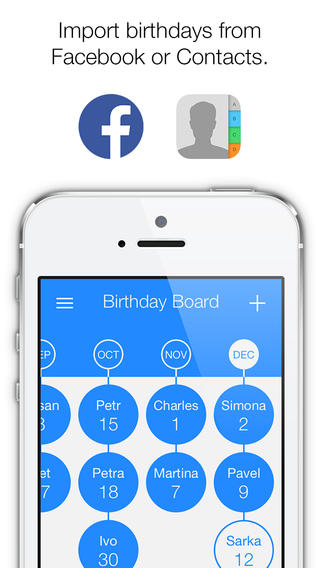 The boards are quite decorative and colourful, just like birthdays are. There are many different themes available to pick for them including Flat, Glass, Plastic, Photos and Paper. While Flat, Plastic and Paper give you a very rigid feel, Glass is glossy and sharp and Photos theme changes the texture completely. Each theme has several different colour options that you can choose from. So you never run out of creativity. You can customize individual birthday cards as well within a given theme. Though the Flat theme comes with the app, the rest of them are available via in-app purchases only for $0.99/theme.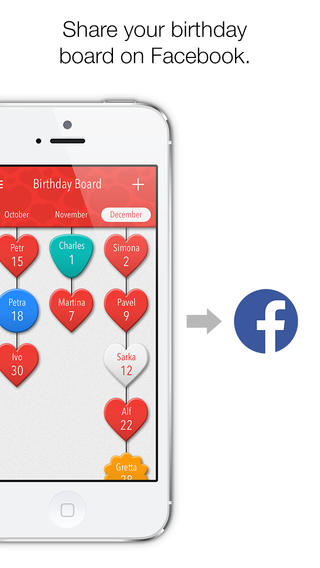 Summing up, Birthday Board is a very delicate and colourful app. Birthdays are all about meeting your close ones. So share your birthday boards on Facebook or Twitter and let them know when the next party is ON!
The app is available for free in the App Store.
Pros: delicate and colourful graphics; create and share your birthday boards on Facebook/Twitter; many themes to choose from; free.
Cons: none.
Worth Having Application –  Download the App