Are you looking for a casual mobile phone game to play during commutes or when bored standing in long lines? Do you want a game that is free of charge, simple to understand but very addictive and full of fun? Well, Bee Jump Hex Bumblebees Jumper fits this profile. In Bee Jump, you get to play as a small cute bee whose aim is to get as much honey as possible. The only gripe is that the honey has been trapped in hexagon structures called hex traps. Each of these hex traps fortunately has a small opening on one side of the hexagon. The hex traps rotate, so to get into the hex, you have to be extra careful.
Gameplay
Once you run the game, you get a quick tutorial on how to play. Playing bee jump is as simple as tapping the screen, but don't be fooled, this taps have to be precisely timed or else your cute bee will have her wings caught up by the hex and she's dead! Dying means starting the game from the beginning. To survive, tap the screen at the right moment and the bee will jump up and out of the trap and you are on to the next one. As you proceed higher and higher the hex traps rotate faster and faster making it harder to get into them.
This game can be really frustrating but it quickly turns to immense sense of pride and achievement when you beat your high score. This is the reason why Bee Jump can be very addicting and fun filled. As an added advantage, the game can be played offline; you are no longer obligated to have network coverage to get in on the fun.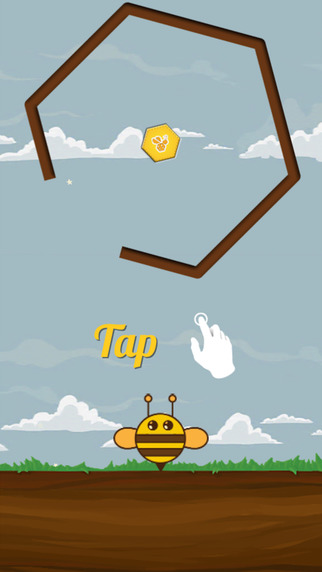 Graphics
The graphics are simple and smooth; Bee Jump runs fluid on any iPhone. The blue skies and the yellow color menus are easy on the eye . The menu font is superb and blends well with the simplistic theme of the game. The bee is round and has those innocent eyes we see in cartoons which gives it a harmless friendly look of a bee that you truly want to help get the honey.
The game menu is well designed with just two controls, home and retry, home takes you to the tutorial page while retry , well, lets you replay the game again. This latter button is one you will be using a lot, hopefully not too many times.
This game may still be new but the players so far have received it with lots of praise. The intuitive gameplay and its addictive nature have been noted and given much fanfare by the users. Bee jump is a game that starts slow and builds up to a fast paced edge of the seat action that is very thrilling. The game is smooth with straight forward gameplay that can keep you glued to your phone for hours. Best of all, you get all this fun free of charge and we highly recommend trying it out.
Worth Having App – Download the App