Now, there are billions of people living on this planet earth. While some of them are as popular as Michael Jackson, there are thousands of unknown tribes unknown to us hidden in the deep forests still alien to the modern society. One such tribe of peaceful monkeys lived in the deep forests in Asia a long time ago. One day, a beam of light was seen in their tribe. One of them, the lazy ASVA couldn't control his curiosity and touched it. But what happened after was just unbelievable to him as his life was about to change. He was transported to a mysterious world just like a time warp. But no one wants to live away from his home and family and ASVA figured out that there is a puzzle in between these worlds that he needs to solve to come back. So, would you help him to get through?
The story is as original as the iOS app, ASVA The Monkey HD developed by Slekrith Film. The app is compatible with iPhone, iPod touch and iPad and requires iOS 4.3 or later version. The app has also been optimized for iPhone 5. The journey to success is always the same but it's the determination of one that actually determines the level of difficulty and it seems that ASVA is not in a mood of backing down.
Now, you would be wondering of how you can help the monkey? There are few simple steps you need to follow. Each world has a no. of different stages that our monkey has to complete. In each stage, you will be required to acquire a crystal. But the way to crystal will be via some steps. You have to make sure that you cover each of those steps but there are a few constraints. You can move only in forward, left and right direction. You cannot turn backwards and that's the trick you got to solve.
The game extends over six different worlds; forest, waterfall, crystal, clouds, volcano and Iceland with more than 90 levels of gameplay. While some of the worlds are locked at the start, you can unlock them by completing the others. There are three different modes: story, survival and endless. While survival mode offers you only a single valuable life, you can play forever in the endless mode. The game also offers some magic tools to help you complete each of those stages. The three magic tools are flash, dash and undo and can be bought in exchange of water melons you earn during the game. However, you can also get them via in-app purchases for a dollar or two.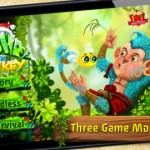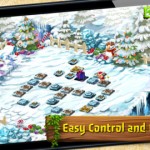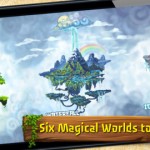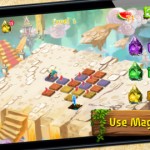 The graphics of the game are very good. The background textures have been designed for different worlds and the difference seems very clear. It's not like the game has been developed in a hurry. It must have taken developers a long hard work to launch this one into the market. The swipe controls are very accurate and easy to learn.
The regular price of the app is$1.99 though it is available for free in the App Store for a limited period as a Christmas offer. So, without talking any further, all we can ask you is download this one as soon as possible before the offer runs out.