I'm looking for the best restaurant in town I've come to visit but don't know the right address or the right person to ask. Of course, you can search for the best restaurants on internet but all you'll find is a list of self-declared winners. You need honest advice of a local who is familiar with the taste and culture. So if you've visited Italy but never tasted an Italian Pizza, then your trip was worthless. But at most of the tourist areas, people are often misguiding and looking for their own benefits always. So who can you trust upon? Even if you're in your hometown, there is always scope for a better opportunity whether it's regarding the guitar classes you've just joined or discount on the books you've bought yesterday. So if you're looking for answers to all these questions, ask me.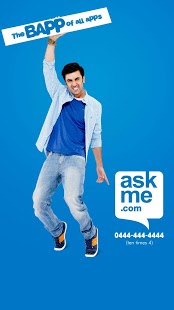 Actually, it's not me who'll answer you but it's the latest Android app ASKME developed by Getit Infoservices Pvt. Ltd. The app is compatible with all the Android devices running Android 2.2 or any later version of the OS and if you've tuned in to your Television set in recent days, you must have watched Ranbir Kapoor promoting it and that's why they've already scored more than half a million downloads.
Askme is seriously everything you can ask for. Just go through your imagination and take out any word you can think for in terms of business such as a food chain, saloon, a music store, bar or anything and Askme will get it on the floor within seconds. The app will automatically trace your location and then all you have to do is enter the name of the specific category e.g. restaurants, you wish to search for and then add a locality. A list of search items will appear matching your search criterion. Each of these names will have contact details including phone number and Skype ID (if provided) and you can also locate it on the map. So if you're on the road, you can directly reach the location using GPS navigation. One more thing that you'll find is the rating of that particular business item. So if there's anything wrong with the place, you're alerted in advance.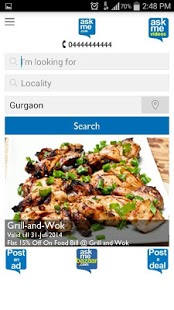 The UI of this app asks for nothing more than a few clicks to track down your destination. It's a traditional structure that you'll find in most other apps but that's what the users ask for. Apart from business searches, you can also post free ads or check out others' in case you want to buy/sell something. There is a section for deals as well where you can find latest discounts/coupons on different brands and stores. So next time you buy a Smartphone, who knows if you get a free Spa as well!
Amidst all these awesome features, there are a few limitations as well. First, the app is only covers Indian locations. Second, there are still some items that are missing from the search box. So it's possible that you might end up at "no results found". But it's very rare and for the most part, it worked absolutely fine. The app is available for free in the Play Store. So go check it out today!
Pros: intuitive UI; search anything; contact info and map location of the business client; automatic location detection; deals; free ads; free.
Cons: None
Worth Having Application –  Download the App