AnaDraw, an iPad app, helps one create lovely anamorphic art. With the help of this app, you can create anamorphic art without having to learn anything new. All you have to do is let your imagination flow. Anamorphosis is the process of distorting or projecting an image with the help of special tools so as to help the viewer see new aspects and angles of the image. Certain aspects are accentuated and others are exaggerated.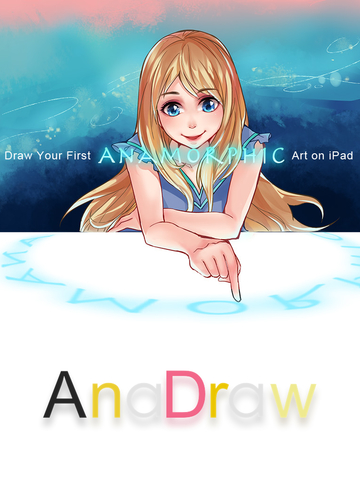 Due to the fact that anamorphosis is not easy to draw, the art style has not been able to come to the forefront. However, with the right tools, any artwork can be transformed into anamorphic art. AnaDraw provides users with creative tools so that everyone from a professional to an amateur artist can become an illusion artist. It brings the art form loves by eminent artists like M. C. Escher and Salvador Dali into the limelight.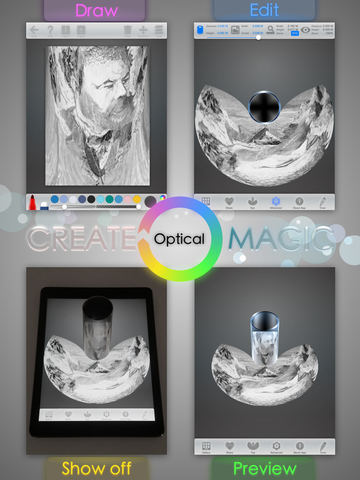 AnaDraw revolves around anamorphic art- including everything from creating it to viewing it. Users just have to let their brushes and tools speak for them. They can draw, edit, entertain and preview all masterpieces created on the app. If you think you have even the slightest passion for art, then this app will help you develop it for sure. It comes with 12 unique brushes, layer blending as seen in Photoshop, excellent performance and an intuitive user interface. Its optical deception tools such as cylindrical mirrors, colour pickers, eye droppers and more help you add a magical touch to your art.
One of the most interesting features of this iPad app is the canvas it provides. Users can not only paint on the reflective surfaces of their devices but also on the anamorphic image on a plane. Once you have created your art, you can then place cylindrical mirrors or other tools with reflective surfaces such as mug, Mac Pro, pen, and more. The image hidden in the anamorphosis can be seen only when viewed from a specific angle.
With AnaDraw, it is easy to show off your artistic and creative skills. All optical illusion art created using the app can be shared on social networks such as deviantART, Facebook, Pinterest and Twitter. You can directly share through the app with ease.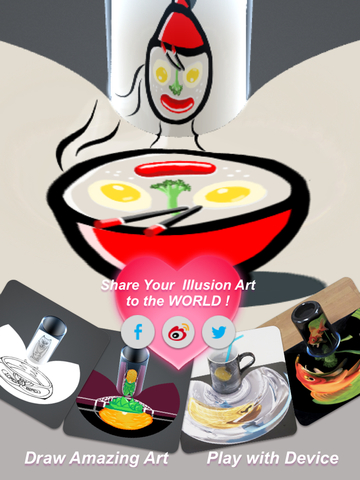 The app is compatible with the iPad running iOS 7.0 or higher and requiring 26.3 MB of memory space. Developed by Wenjie Hu, it is currently available for free on the App Store under the category of Productivity apps. The developer does indeed deserve a round of applause for the concept and simplistic implementation of the app. This, along with the social aspect and the superb user-friendly design, gives the app a clear edge over other apps in its niche.
If you have a passion for art and are too bored of the usual art forms, this app will help you explore new angles and optical illusions that you can bring out in your art. With its excellent tools and design, this work is made much easier than you can think of.
Good: Huge variety of tools for anamorphosis
Bad: None
Worth Having Application –  Download the App