Is your child flopping in English? Are you tired of trying all means of learning with no avail? Do you want a fun way that your kid will learn without needed any supervision? Well, Study Cat developers have a solution for you. It comes in form of a game called ABC Galaxy. This game is designed to help your kid learn the alphabet, carefully chosen words and how to pronounce them.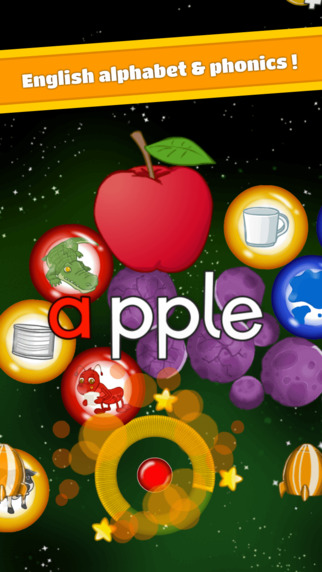 Gameplay
The game play is simple but fun-filled. Your kid is presented with easy words which they are supposed to match with their respective meanings. Both single player and multiplayer modes are present.
Kids get bored easily so their games should have a lot of fun to keep them coming back. Study Cat, the developer of ABC Galaxy understands this concept. They made a variety of ways to interact with the objects floating around in the galaxy. Kids can throw, Smash and even fling through the different objects matching the given words. For an added twist, both upper case and lower case letters are tested.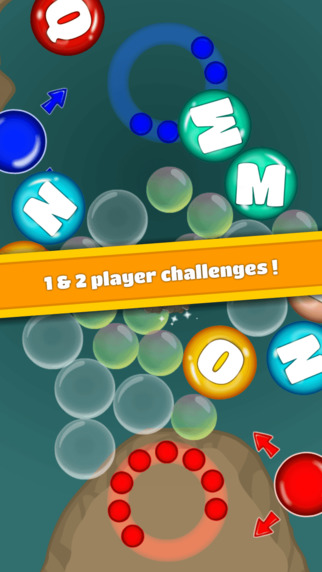 The words get more difficult as you proceed. The vocabulary gets more exotic and harder to crack. ABC Galaxy has over 250 words to challenge your kid. Unfortunately, there is a catch. You don't get access to all these levels right from the start. The game comes in two versions. The free version has only 42 words spread between 10 levels of single player gameplay and 4 levels of multiplayer action. Then there is the full version, that's where all the fun is. You get to unlock the remaining 208 words totaling to 250 words. A whooping 42 levels of single player and 16 levels of multiplayer mode at your disposal. With all these levels, your kid is sure to remain entertained while at the same time become a young linguist.
Graphics
Kids love color, this game has lots of it. The player shoots the floating objects with brightly colored candy shaped balls. The objects are usually floating inside bubbles .When the bubbles get shot they burst into stars to reveal the object. The graphics are designed in a playful theme. You get the impression that the developers behind the game got their inspiration from cartoons. Your kid will fit right in.
The game is set in many different worlds. From space to land and even under the sea. All the different planets in the ABC Galaxy have different textures and words that start in different letters.
ABC Galaxy strives to not only teach your kid new vocabulary but also how to pronounce it correctly. In line with this, they have incorporated the pronunciation of every word your kid comes across when playing. The soundtrack playing in the background is subtle and soothing, you won't tire hearing it over and over.
Conclusion
Games have proven to be one of the most effective ways to learn with kids. ABC Galaxy is among the best in learning the alphabet and its vocabulary. The game excels in the fun gameplay, the colorful graphics and the informative pronunciation. Ultimately, if you want your kid to learn English and have fun while at it, ABC Galaxy is your best bet.
Worth Having App – Download the App