"Scott Pilgrim vs. the World: The Game" is a side-scrolling beat 'em up game based on the Scott Pilgrim series of comic books by Bryan Lee O'Malley, tying in with the release of the film of the same name. The game was first announced at Comic Con 2009 in July 2009.It was released on PS3 on August 10, 2010, and on Xbox Live Arcade on August 25, 2010.
Storyline
Scott Pilgrim is a loveable loser whose life is turned upside down when a mind-blowing delivery girl named Ramona Flowers starts popping up everywhere, even in his dreams. Could she be his true love? But the path to Ms. Flowers isn't covered in rose petals. The League of Ramona's Evil Exes stands in the way. To get the girl, Scott must not only defeat the seven evil exes, but also take responsibility and become a better person
Gameplay
Up to four players can play as Scott Pilgrim, Ramona Flowers, Kim Pine or Stephen Stills (along with the unlockable character NegaScott and the downloadable character Knives Chau), who must battle through seven levels in order to defeat Ramona's seven evil exes. Characters have their own individual movesets, which can be expanded upon by gaining enough experience, and are also able to use weapons. Each player has Heart Points and Guts Points, the latter of which can revive players if they are knocked out, or be used to perform special moves such as summoning Knives Chau or the unlockable assist character Mr. Chau. Defeating enemies earns coins which can be spent in shops to purchase items that can replenish health or boost stats. Certain items can be taken 'to go' to be automatically used when the player runs out of health.[6] Players can also enter Subspace areas which act as bonus areas where extra coins can be earned. During co-operative play, players can revive fallen comrades at the cost of some money, give each other health or money and simultaneously taunt for a combined attack.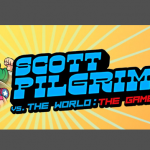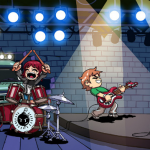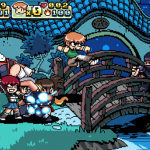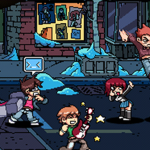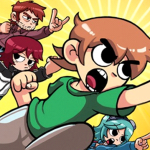 Developers
Scott Pilgrim vs. the World: The Game was co-developed by Ubisoft Montreal and Ubisoft Chengdu. The game's art direction and animation was headed by Paul Robertson, whom the company contacted by e-mail.[Robertson had previous experience working on the 5th Cell series Drawn to Life and created Pirate Baby's Cabana Battle Street Fight 2006, an animated side-scroller game film.Robertson was responsible for designing and animating the game's sprites, effects, and other aspects. He felt he had "the most creative control" on any game he has worked on, but that he was still restricted by the source material, pleasing the publishers and producers, and programming limitations.Chiptune punk band Anamanaguchi performed the soundtrack for the game. Bryan Lee O'Malley, Scott Pilgrim series creator, and Edgar Wright, director of the film adapation, have also been involved in development.O'Malley came to Ubisoft and discussed with the development team how the game's narrative and flow should be handled. He also drew several sketches on which the in-game cutscenes are based. According to O'Malley, he was initially approached by Telltale Games to make a Scott Pilgrim adventure game, but he declined as he could not see it as part of that genre.
Scott Pilgrim vs. the World: The Game was first announced at San Diego Comic Con 2009 on July 28, 2009. On June 8, 2010, GameInformer presented their first hands on, where it was revealed the game would be a timed exclusive for PlayStation Network, with an Xbox Live Arcade release at a later date. The first trailer for the game was released on June 11, 2010, which showed some of the stages in the game such as inside a club, on a street and noticeably inside a Toronto Transit Commission streetcar.The game makes various references to video games, such as River City Ransom, Mario, Kirby, Mega Man, and Guitar Hero. An early pitch video was revealed on August 11, 2010, which showcased even more retro graphics and direct parodies of classic games.
Scott Pilgrim themed Avatar clothes and props were released on Xbox Live's Avatar Marketplace on August 12, 2010.The game's original soundtrack by Anamanaguchi was released on Amazon and iTunes by ABKCO Records in North America on August 24, 2010, and was released internationally on August 30, 2010.
Reception
Scott Pilgrim vs. the World: The Game has received positive reviews from critics, with a Metacritic score of 79% based on reviews from 35 criticsIGN gave the game an 8.0 score and an Editor's Choice award, praising its style and soundtrack but criticizing its lack of online multiplayer or drop-in play.They later named it the 25th best game on Xbox Live Arcade.Similarly, 1UP.com criticized the game's difficulty and need for grinding, giving the game a B+ rank.Joystiq gave the game 5 stars, saying that "they couldn't recommend it any higher, especially at 10 bucks."Game Informer gave the game a 9.0 score, calling it "the best modern brawler since Castle Crashers." GameTrailers gave the game a score of 8.3, calling it "an excellent pastiche that will reaffirm your love for classic beat-em-ups.GamesRadar gave the game 8/10, calling it "a breezy blast from the past."Kotaku called it "an entertaining little old-school beat-em up that becomes exponentially more entertaining the more friends you play with."GameSpot gave the game a score of 6.5, saying the game is a bit too chaotic with four players on screen.
Awards:
Prior to release Scott Pilgrim vs. the World: The Game received nominations for Best Downloadable Game of E3 2010 by both GameSpot and GameTrailers.It was nominated for "Best Downloadable Game" and won "Best Adapted Video Game" at the 2010 Spike Video Game Awards.
Supported Functions
Number Of Players: 1-4
Local – Co-Op # of Players
480p &720p
Dolby Digital
Downloadable Content
Online Leader boards
Gameplay,Characters,Soundtrack and Video
Fight as Scott Pilgrim, Ramona Flowers, Stephen Stills and Kim Pine, or as one surprise character, each with their own signature moves and attacks.
Team up with up to 3 of your friends on the same console and combine your skills in over-the-top super CO-OP attacks for more devastation.
Not only can you help your friends by reviving their characters or sharing health and coins, but also compete with them in subspace mini-games to earn more experience, coins and lives.
Summon for a limited time an AI ally — such as the deadly Knives Chau — to help you strike your enemies.
Old-school graphic design with next-gen HD technology.
8-BIT retro-gaming animations by the world-famous Pixel Artist Paul Robertson.
Features exclusive retro cut scenes and art by Bryan Lee O'Maley, Scott Pilgrim creator.
Includes tons of references to new and old cult games.
Defeat Ramona's 7 ex-boyfriends and their weird hordes of hipsters, emos, paparazzi, aliens, flying piggy banks (yes, flying piggy banks!) and many many more.
Progress by earning eXperience Points that will allow your character to level-up and learn numerous deadly fighting moves.
Earn coins during your journey and exchange them in one of 14 shops for food or snacks that increase your strength, speed, defense and will power.
Get each of your quests rewarded by spending quality time with the girl of Scott's dreams — Ramona Flowers.