Biorhythms can be used as a reference by people on different walks of life say, learning, sports, business, sales, etc., It is an integration of different elements like emotions, exercise, wisdom, passion, harmony, romance etc. When your biorhythm is not normal, it is better that you avoid carrying out some activities as they may turn out bad. These are the indicators of nature that let you know in advance about the good and bad days of your life.
BiorhythmΩ is given by the seller Jeonghwan Kim and it calculates the biorhythm of a person with much accuracy. With this app, you can always be sure about what you can expect every day.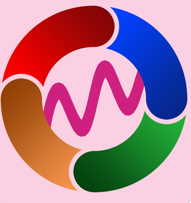 Just download BiorhythmΩ and enter your date of birth and that's it. Biorhythm is the physiological cycle of physical, emotional, intellectual and intuitive rhythms. The app calculates all the 4 biorhythms of a human using the four formulas: sin (2π d / 23), sin (2π d / 28), sin (2π d / 33) and sin (2π d / 38) where d is the number of days of living. Each of these rhythms has a value varying from -100 to +100 and this indicates the status. The low stage goes from -100 to -1, high stage from +1 to +100 and the dangerous days are given by the value 0. The app gives you a list of how your biorhythm has been for the past 31 days. After the calculations are done, you can perform a complete analysis of how things have been going so far.
Important features of BiorhythmΩ:
The data generated by calculating the 4 biorhythms are displayed on a graph with high crest and low troughs.
The graph displays values accompanied by smiley for better understanding.
The app has an extension widget that can be set on the main screen.
It allows for sharing of biorhythms with your friends and family through message or email.
It helps you to compare the biorhythms of more than 2 persons.
Biorhythms of multiple dates can be viewed easily when you alter the dates.
With BiorhythmΩ, you can also calculate the future model and consider it as an advice for the upcoming events.
When you have any questions or queries you can use the email function of the app and get them answered.
The app is so convenient and simple to use and it comes in 8 different languages. BiorhythmΩ is available for download for $ 1.99 on all iOS devices that operate on 11.0 or later versions and is compatible with iPhone, iPad, and iPod touch.
Worth Having app – Download the App